Thank you to everyone who sent in buttons for our swap! Thank you Laurel S.,
Tamy
B. and Cindy H. Please email your snail mail info to
sgsisterswap@hotmail.com
so we can send you a little goodness!
And thank you to
Tamy
O. who's button we have chosen as the official Sweet Goodness Holiday Sister Swap button.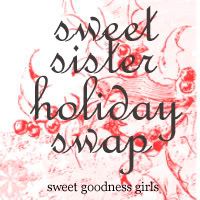 Button is on the right side bar, click and save and put it on your blog! Please visit
Tamy's
new blog
Ga-Ga for Garlands!
Tamy is hosting a holiday garland swap with sign ups starting on October 10th. I think I'll be signing up and making two garlands for swaps this holiday season!
Keep sending in those links for the
20 Questions
!
Cheers ~ Rebecca