Welcome! Sign up now to join the Vintage Valentine's Day Corsage Swap!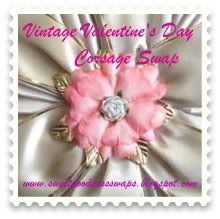 DETAILS:
Send one handmade vintage inspired Valentine's Day themed corsage and a sweet treat to your partner. Your corsage should include a pin back or large decorative straight pin so your partner can proudly wear it. You could also include an elastic band to make it a wrist corsage. Corsages should be at least 4 inches and will be made in either red or pink depending on your partner's preference. Feel free to include other accents like silver, gold or pearls. For inspiration see these fabulous vintage Christmas corsages at Magpie Ethel's:
Christmas Corsage Collection
DATES:
Sign up QUICKLY! We are only taking the first 24 participants. Swap sign ups close on Sunday January 9th. Partners will be sent out quickly on Monday and your swap needs to be in the mail NO LATER than February 1st so it can be enjoyed for Valentine's Day.
SIGN UP:
Send the following details to
sweetgoodnessswaps@gmail.com
:
Name:
Address:
Blog Address or Website:
Chocolate or Sugar?
Red or Pink?
This is a fun way to use up some things in your stash or scour those after Christmas sales for usable items. Be creative! We'll set up a Flickr page for everyone to post their corsages soon.
Cheers ~ Shara and Rebecca