Howdy Cowgirl Swappers! The mail out date for your swaps was YESTERDAY! Sorry we couldn't get this post up sooner, technical difficulties here at the house of Sweet Goodness.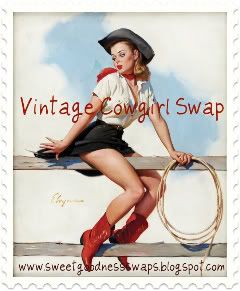 Please remember that if you are going to be late in sending out your swap for ANY reason, contact your partner and copy sweetgoodness@hotmail.com. If you have any questions regarding this swap or anything else about SGS please drop us a line!
COMING SOON: Summer Swap Theme Contest
We are giving you the chance to see your swap dreams come true. Stay tuned for a contest to dream up the next swap here at SGS. We'll be picking our favorites and putting them to a vote. The winner will receive a lovely prize!