Thanks to
Tamy
we have this fabulous swap button to offer! Thank you!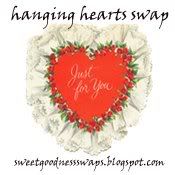 Just right click, save and add to your blog!
cheers!
Rebecca
******UPDATE*******

We have some swappers replying on our comments that they would like to join but not emailing us....please reply back to us on our email with your info so we can count you in officially!!

heartswap2008@hotmail.com

Please include your blog if you have one and whether or not you will ship internationally.

HURRY--sign ups end on Friday!!!!!